Historic Broadway's
Bookstore & Newsstand
An independent bookstore featuring the Gateway to the Klondike's largest selection of Alaska-Yukon books, maps, calendars, journals, magazines, and more…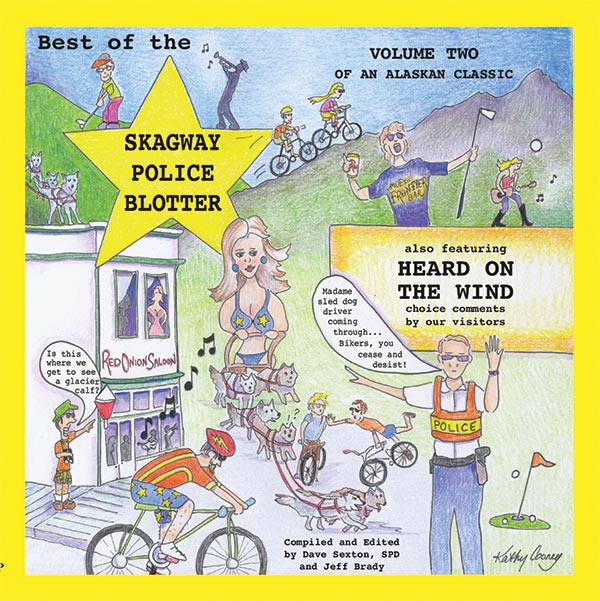 Best of Skagway Police Blotter – Volume 2
The long-awaited second volume of the best from the log books of the Skagway, Alaska Police Department along with items from the popular Heard on the Wind column in The Skagway News, choice comments and questions from visitors that make everyone laugh. $14.95. Compiled and edited by Dave Sexton and Jeff Brady and released in summer 2016 by Lynn Canal Publishing along with a revised edition of the classic Volume 1. Signed Copies Available!
Store Events & Features
BIG HOLIDAY WINNERS!!! – Congratulations to Wayne Selmer, the winner of our Shop in Skagway drawing, and to Michelle deKennedy, who guessed the number of books correctly (160) in our Christmas Book Tree.  Each won a $100 Book Bag!
STORE CLOSED FOR RENOVATIONS – We were successful in getting another 10 years on our lease of the 1899 Boas Building from Klondike Gold Rush National Historical Park, but we shut the retail store Dec. 28 so park staff can do some much-needed work on the interior of the building. It will remain closed through the month of January. Everything had to be moved out to pull this off so we won't have access to books for online orders during this time. We should be reopening around Feb. 1, 2018. Thanks for your patience and for supporting Skagway's independent bookstore.
NEW!!! Haines writer and North Words Writers Symposium co-director Daniel L. Henry's long-awaited Across the Shaman's River: John Muir, the Tlingit Stronghold, and the Opening of the North, from University of Alaska Press.